If you're loaded or quite possibly crazy, maybe you'd like to adopt an Ashera cat. A hybrid between the African serval, the Asian leopard cat, and the regular house cat, this trendy kitty will set you back at least $22,000. Hypoallergenic ones cost around $37,000 and if you want one with special markings, prepare to dish out $125,000.
I know. It's ridiculous.
More interesting facts. These cats are huge. They weight up to 40 lbs and come up to your knees. Check out the video below and the pictures.
But before you pay out your life savings for a cat that should be in a zoo, know that the authenticity of this breed has been challenged. According to Wikipedia, the only known Ashera cats to have been proven to be Savannah cats via DNA testing. The Savannah cat is already an existing breed.
Check out the video below for more details: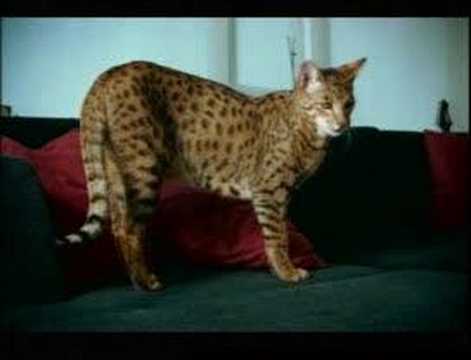 Now this is a Savannah cat. If you ask me, they look the same: